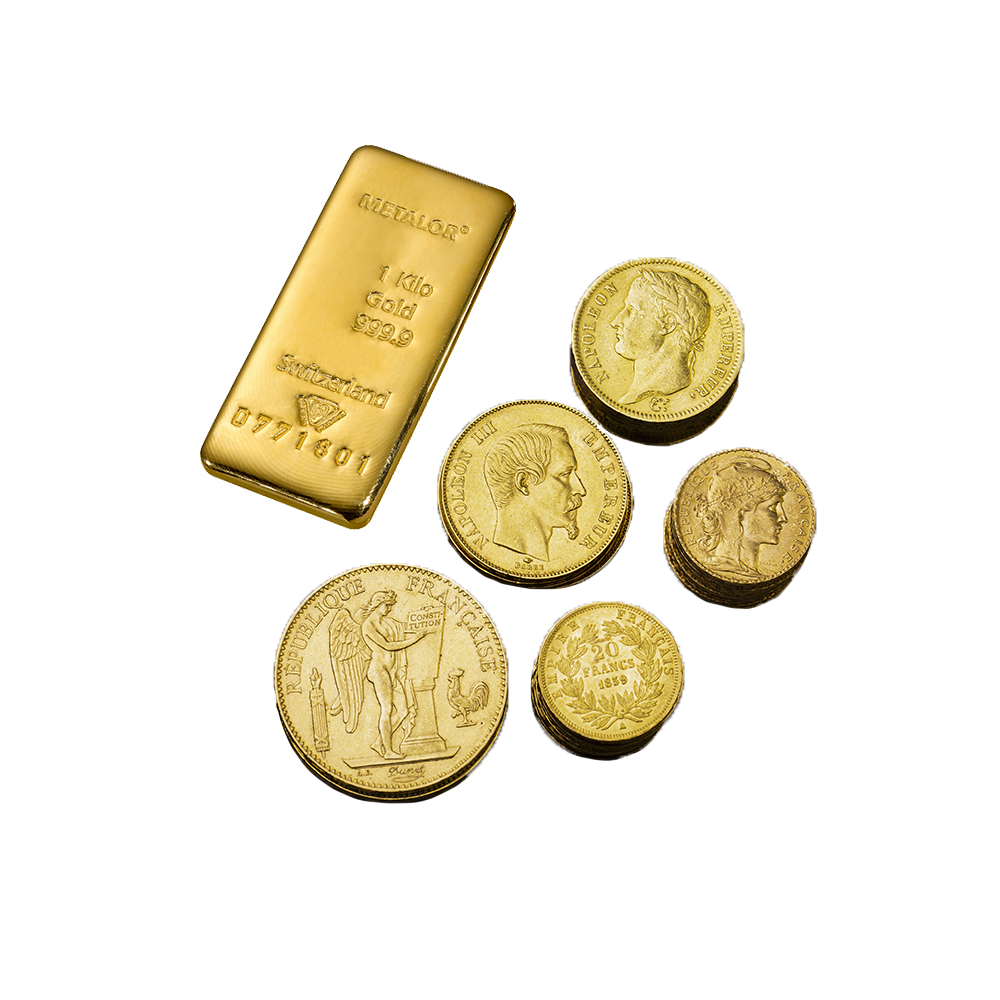 Selling gold
Perhaps you invested in physical gold and now want to sell some or all of it to get the most out of recent gold prices. Or maybe you need some cash. Whatever the reason, selling gold in Belgium is very easy and tax efficient. Contact us to value your gold coins or bullion.
Sell gold
All about selling gold
Why sell your gold in Belgium?
The market for physical gold is tightly regulated in certain countries, but Belgium remains a very attractive place to sell this lustrous metal. In fact, you do not pay any taxes or duties when you sell gold. However, since the Anti-money Laundering Act of 18 September 2017 was enacted, we must hold an electronic registry of sellers' details. Accordingly, we will need you to show us some form of identification. This measure is aimed at combatting money laundering, frauds and scams. At GFI, every operation over €1 is registered and a bill is provided to each customer. The amount is transfered the same day on your bank account.
When to sell gold
If you want to sell your physical gold, it is a good idea to track the gold price trend to choose the best time to sell – getting yourself the best price and optimising your returns. Our website displays the latest live gold prices for gold coins and bullion. These are indicative prices since the price is constantly moving. However, you should take into account the many internal and external factors that influence the price of gold over both the short and long term. Gold bullion and coins are valued in different ways. 
Where and how to sell gold in Belgium
In Antwerp and the centre of Brussels, there are many establishments that specialise in the buying and selling of gold, like ours even if we are "unique". You will need to go to the office to hand over your gold coins or bullion, but you can also ask for information online or over the phone. The price of your gold coins or bullion will be appraised based on different factors (quality, LBMA-certified bullion or other bullion, such as French, Belgian and Emeko). For gold bullion that is not certified by the LBMA, GFI reserves the right to apply a slight discount to the displayed price to cover costs such as smelting.
For advice and information, contact the specialists at GFI.
What costs are charged on selling gold in Belgium?
There are no taxes or duties payable when you sell gold in Belgium. The prices we display on our website include the premium and are completely transparent. They change every minute and are given for the purposes of information. At GFI, we do not hide any charges, everything is included in the price displayed.
How to quickly sell gold
Thanks to our guaranteed, audited and highly secure deposit service  GFI SAFE, operated in collaboration with Brink's, you can quickly sell your gold. This service lets you store your gold with us and outside the banking sector. The service is available to our customers as well as anyone else who can prove they bought the gold or have ownership over it. We charge on a sliding scale according to the amount of gold stored with us.
Another advantage is that you can sell your physical gold easily without having to move anywhere. You can check your gold holdings and easily manage all your (buy/sell) transactions from our online platform. The agreed sale price is paid to you on the same day.