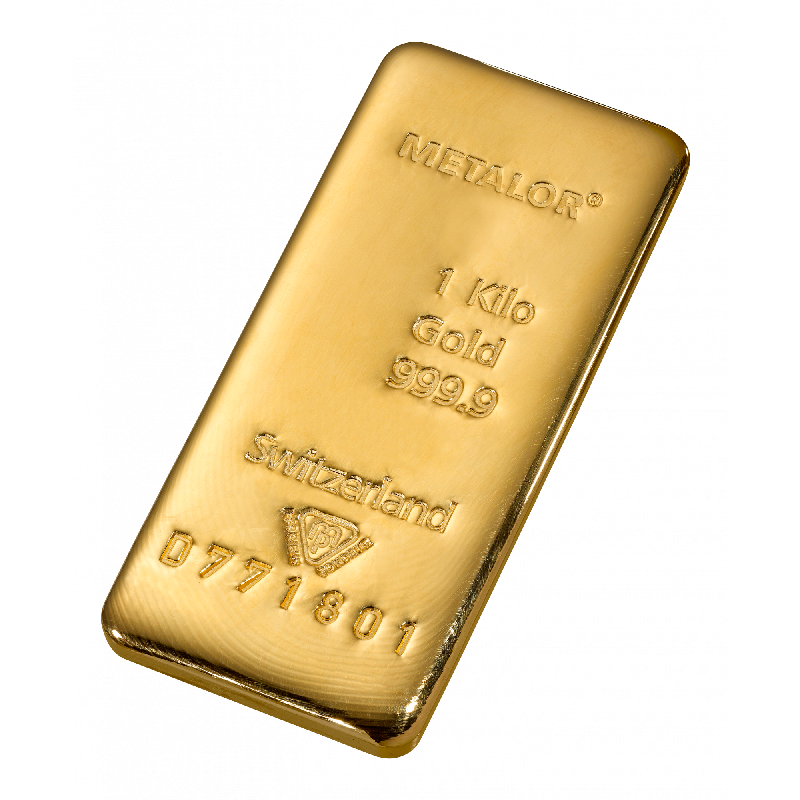 Buy a one-kilo gold bar
If you are looking to invest in gold or diversify your finances, buying gold bullion is a highly attractive option. Buying one kilo of gold can seem overwhelming but there are other options. Bullion comes in sizes of 5, 10, 20, 50, 100, 250, 500 grams, and even an ounce. There are also 20 x 1 gram and 50 x 1 gram gold combibars available. You can find something to fit your budget. This also gives you the ability to adapt or add to your investment depending on how your resources change. GFI can help you and advise you on how you should diversify your investments.
Buy a kilo of gold
Simplicity:

there is no issue on numismatic value, origin or grade. A gold bar is made from

999.9

pure gold, in other words, 24 karat gold.
Different sizes

available to suit all budgets: bars from 5g to 1kg.
The spread (difference between the buying price and sale price) is narrow. In this way, you buy and sell gold as close as possible to the spot price (price of gold set by the market).
The gold bars we offer are certified by the LBMA.
They are reputable and tradable anywhere in the world.
They allow you to invest substantial amounts and avoid having to store a large number of coins.
Inflation

 protection: their value is decoupled from financial and currency markets.
They are a comforting physical asset that would be an excellent addition to your investment portfolio.
Why is a one-kilo gold bar seen as a benchmark?
A kilo gold bar is the preeminent way to invest in gold. While the troy ounce is the official unit of measure, the one-kilo gold bar acts at the benchmark for many investors. At GFI, we only sell bars certified by the LBMA (London Bullion Market Association), an association of precious metals professionals who supervise gold and silver markets. The gold bars are labelled "good delivery", a guarantee that they comply with criteria on their production, origin and quality.
The logo and name of refiner (eg : Metalor, Umicore)
Purity or fineness (999.9)
Weight (1000 g)
Serial number
A kilo gold bar will also have the following information imprinted:
On the other hand, a kilo bar cannot be divided up and is thus less liquid. When you decide to sell it, you will have to sell the entire gold bar. The cash you receive will be the price you accept for the one kilogram. It might be a good idea to diversify your investment into different sizes of bullion.
Learn more about gold bars
What is the price of a gold bar?
The weight of the bar and the value of the gold it contains determines the bar's price. You should also take into account the premium. The premium for a one-kilo gold bar is the lowest among bullion. The smaller the bar, the higher the premium. The prices on our website are transparent; they include all fees and commissions. No unpleasant surprises.
Where to buy gold bullion
You should place your trust in companies that have a good reputation. This requires some research. You can buy gold bullion in Brussels and Antwerp where you will find many reliable and authorised traders, like GFI.
Where to store gold bullion
The most important thing is to store your bars in a very secure place, preferably in one of our safes or at a bank. However, not all banks offer this service any more. There is a more convenient option. We work with Brink's to offer a guaranteed, audited and highly-secure deposit service:GFI Safe. You can check your physical gold deposits through an online platform and you would not even have to leave your home to buy, sell or store your gold:
 GFI will do everything for you.