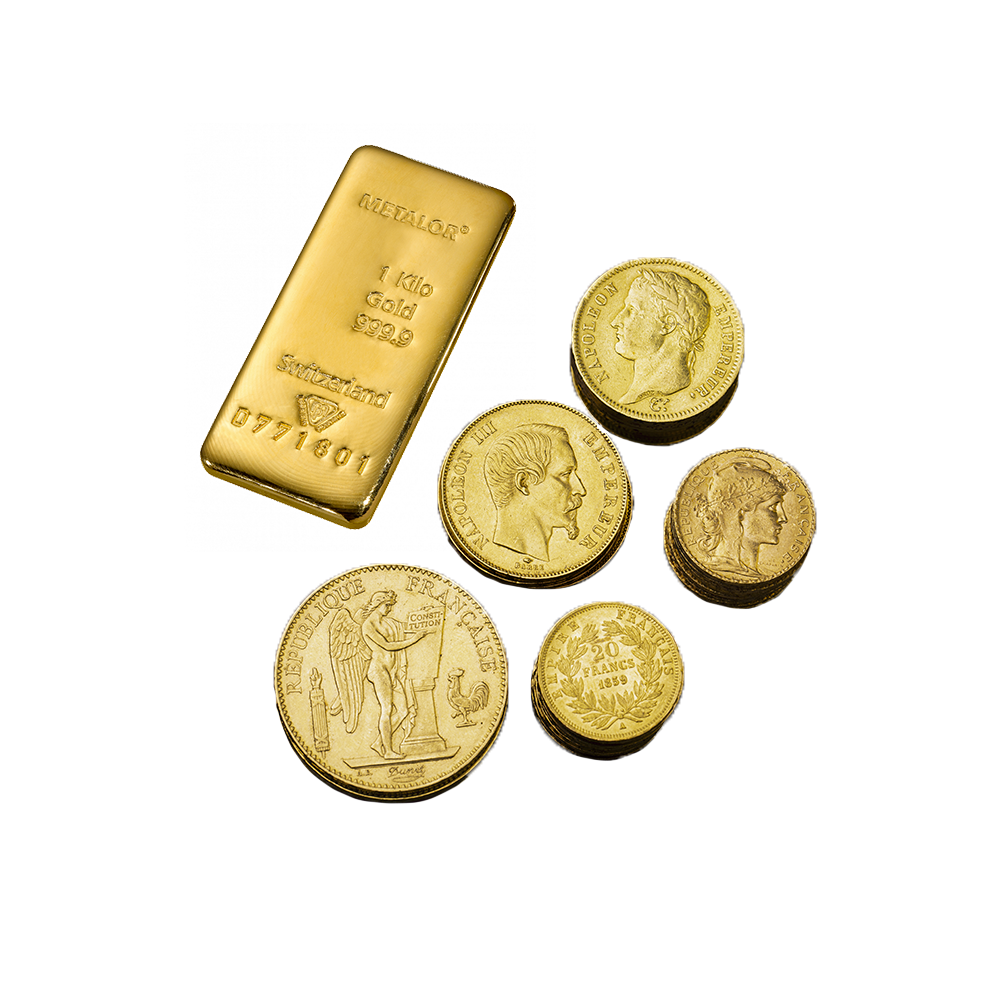 Buying gold
Buying gold is a defensive investment choice that is profitable over the long term. It offers security over the long term and attractive returns during economic crises. Call on the specialists at GFI to advise you on how you can buy gold. And if you prefer other metals, we can also offer silver, platinum and rhodium.
Buy gold
Why buy gold in Belgium?
Gold is the quintessential store of value.
It is not for saving over the short term, rather it is a long-term investment. Commodities have been and will continue to increase over the years. Even if the price of gold has stabilised recently, it is still a bulwark against rampant inflation. Gold has an intrinsic value due to its physical characteristics: it is rare, durable, immutable, difficult to mine and considered a precious metal around the world.
Financial diversification
When you buy gold, you are protecting yourself from inflation and other economic and financial risks. It is a medium of exchange that is entirely independent of other markets, meaning it cannot be manipulated like the rest of the financial markets and is an excellent way to diversify your investments. Even if its value does fluctuate, there is no other asset that has kept its value over the long term like gold.
A liquid asset
You can easily sell your gold on the market when and where you want. Gold is a liquid and easily tradable asset like many other financial assets. Moreover, it is easy to store and transport. But you do not even need to have a safe; we can safeguard your gold for you.
Gold is a real asset.
Gold is one of the few real assets that enable you to smartly diversify your wealth. It deserves a place in every portfolio as a stable asset to limit the risks of volatility in the financial markets.
An investment transcending generations
Gold is one investment that can be handed down from one generation to the next, from grandparents and parents to their children. It is easy to set up an automatic "gold savings" account for yourself, your children or your grandchildren through your online account.
Tax benefits
Gold investments are taxed differently from one country to the next. In Belgium, gold is not taxed under current legislation. You do not pay taxes or VAT on holding, selling or buying gold in Belgium. We are transparent in our pricing and all prices on our website are the final price. There are no hidden fees or commissions. You pay the displayed price. 
When you buy gold, we along with Brink's can offer you a guaranteed, audited and highly-secure deposit service: GFI Safe. You will not have to worry about any risk of theft or damage. So, you can buy physical gold from us (online or by phone) quickly and securely without leaving the house or worrying about how you will keep your gold safe. You can store as much as you like.
This service is available to our customers as well as anyone else who has a bill or document proving that they are the rightful owners of the gold they want to store. You are welcome to keep your gold with us if your bank does not offer this service.
You just need to come to our Brussels office to lodge it with us. Moreover, you can check your holdings at any time thanks to your online account. Storage is billed on a quarterly basis. The fees are charged on a sliding scale.
Our delivery service
We also offer our customers a very practical delivery service that lets you buy gold wherever you are. Delivery is made within three business days after receipt of payment and you will need to be home to receive the package.
This delivery service is free for shipments over €15,000 and you are charged €35 ​​including VAT for purchases under €15,000.
Should you buy gold coins or gold bars?
So, you have decided to buy physical gold. The choice between gold coins and gold bars depends primarily on your budget. Gold bars (composed of at least 999-fine gold) are denser and easier to store and sell. On the other hand, the value of gold coins (composed of gold in a less pure form) is valued differently and can also fluctuate according to supply and demand. They also need to be stored in a more specific way to hold their value. Contact GFI's specialists anytime for more advice.