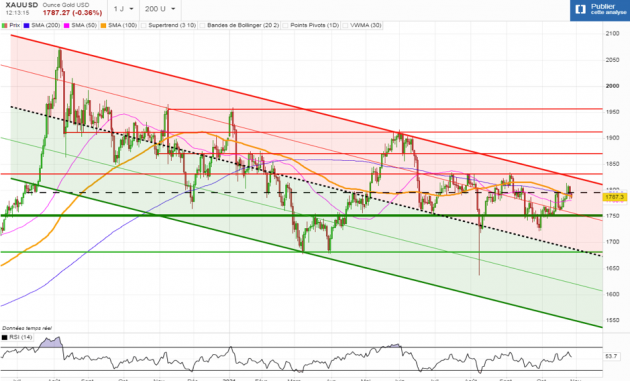 04/11/2021
How is the price of gold going ?
In August last year, the kilo of gold peaked at € 56,000 per kilo and $ 2,075 / ounce.
 Since then, the price of gold has been in a bearish channel and a horizontal trading channel between $ 1750 and $ 1830.
 For gold to show signs of a reversal, it needs to close above $ 1,830.
 In the short term, gold has difficulty moving above its current central price of $ 1,800 sustainably.
 At the level of $ 1,750 there is significant support which invites to strengthen its position in gold, the lowest level being at $ 1,680.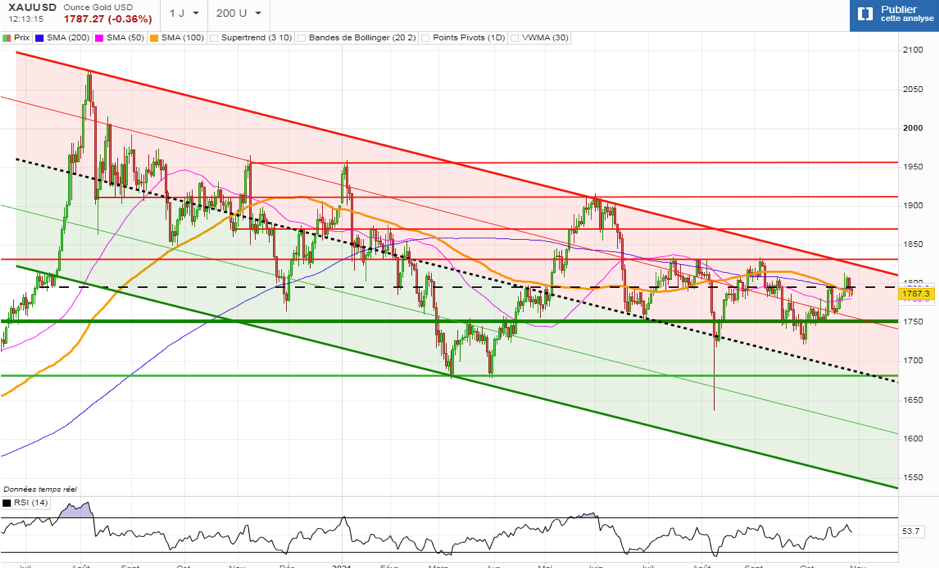 Disclaimer:
The data presented on this page is provided for information purposes only and does not constitute investment advice, an offer to sell or a solicitation to buy, and should not be relied upon as a basis for/or inducement to engage in any investment.
Past performance is not constant over time and is not indicative of future performance. This newsletter does not take into account your financial situation and objectives. The investor is the sole judge of the appropriateness of the transactions he/she may enter into.
Gold and Forex International is regulated by the Financial Services and Markets Authority (FSMA) in Belgium.
The information on this website is not intended for distribution to, or use by, any person in any country or jurisdiction where such distribution or use would be contrary to local law or regulation.
For more information about Gold and Forex International: see the Terms and Conditions.