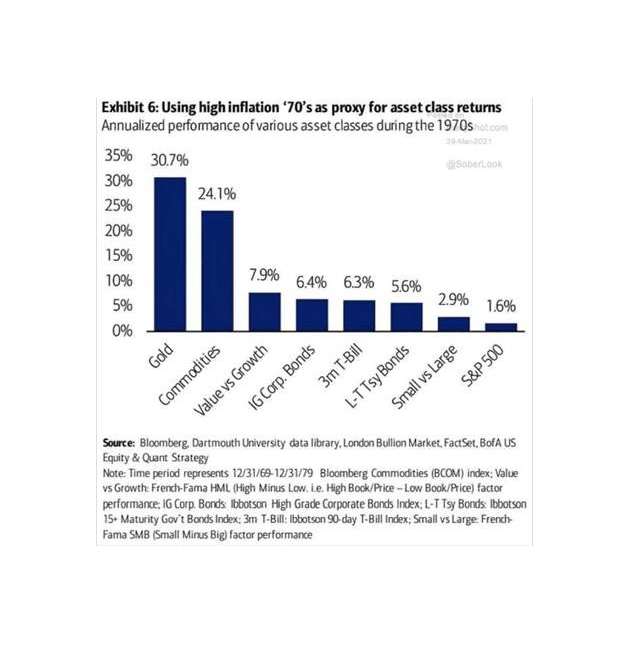 31/03/2021
GFI Daily Chart 31/03/21
"History doesn't repeat itself, but it often rhymes."  is a quote that is often attributed to Mark Twain. The fear of inflation has started to be back on investor's minds with the abundant monetary and government stimulus unleashed to fight the negative economic impact of the pandemic. We still see such a scenario rather unlikely because inflationary pressure, while starting to appear in input prices like commodities, all important wage costs have not seen noticeable increases over the past months. As prudent investors, we however look back at history to see what happened to different asset classes in an inflationary scenario like the 70's. Here gold, commodities and value were the clear winners for investors over an inflationary decade.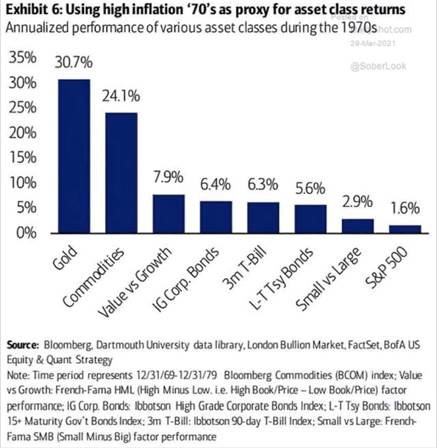 Disclaimer:
The data presented on this page is provided for information purposes only and does not constitute investment advice, an offer to sell or a solicitation to buy, and should not be relied upon as a basis for/or inducement to engage in any investment.
Past performance is not constant over time and is not indicative of future performance. This newsletter does not take into account your financial situation and objectives. The investor is the sole judge of the appropriateness of the transactions he/she may enter into.
Gold and Forex International is regulated by the Financial Services and Markets Authority (FSMA) in Belgium.
The information on this website is not intended for distribution to, or use by, any person in any country or jurisdiction where such distribution or use would be contrary to local law or regulation.
For more information about Gold and Forex International: see the Terms and Conditions.